Our Bi-folding Doors will add modern flair to your Downton Home.
At Cara Glass, we offer homeowners the choice of either uPVC bifolds or aluminium bi-fold doors. The replacement doors provide a unique set range of features that will instantly enhance the performance of your home. As well as their excellent functionality, our modern bi-folding doors will add contemporary flair to your home with their stunning appearance.
Available in a variety of finishes and colours, you can tailor your bi-fold door to suit you and your Downton home needs. Our aluminium and uPVC bi-fold doors are designed with you in mind. Our expert team at Cara Glass will work closely with you to bring your bi-folding door dreams to life.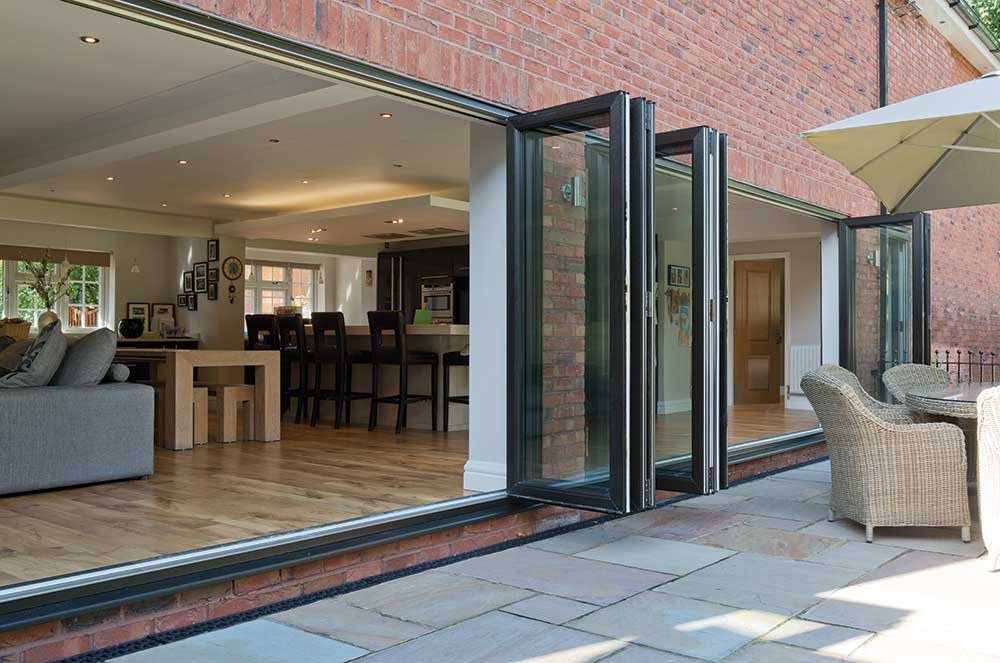 Aluminium Bi-Fold Doors
Aluminium is a material known for its inherent strength, but also known for being lightweight. This means the design of the bi-fold doors is ultra slim, allowing for large glazed panels. This results in an aluminium door that lets natural light flood your room, creating a visually brighter space throughout the year.
Our aluminium bi-fold doors are available in a vast selection of sizes, shapes, colour and finishes. This allows you to generate a design that perfectly matches the existing architecture of your Downton home.
The durable profile of the replacement aluminium doors makes them the perfect cost-effective and low-maintenance solution. They will be resistant to warping, cracking, rotting and twisting that's typically associated with uPVC and timber profiles.
uPVC Bi-Fold Doors
Our uPVC bi-fold doors are provided to us by Deceuninck, an industry-leading manufacturer that produces high-quality uPVC products. This means that you can benefit from great quality bi-folding doors that perform incredibly well, giving you several years of service.
You have the ability to open up an entire wall during the summer, seamlessly blending the interiors of your home with your garden. uPVC is known for being a durable and robust material. This makes our uPVC doors a cost-effective investment that will be easy to maintain and still provide exceptional standards of performance after extensive use.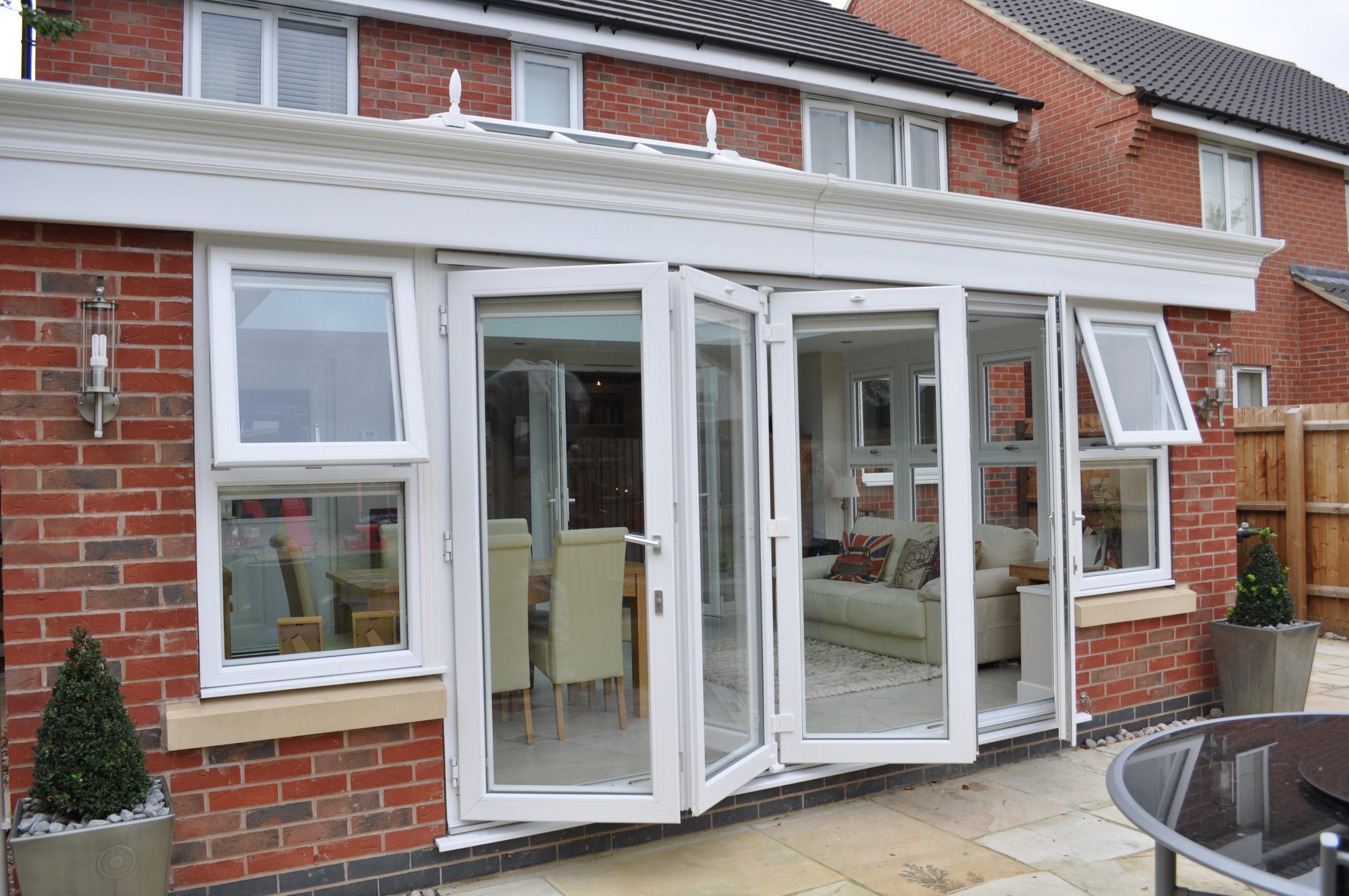 The Benefits of Bi-Fold Doors
By having bi-fold doors installed into your Downton property, you can benefit from a range of impressive features.
Energy Efficiency – The bi-folding doors we supply have been intelligently designed to trap pockets of warm air, whilst keeping the cold air out. Throughout the year, your home in Downton will be well insulated, eliminating cold draughts and any potential water ingress. Additionally, you will see a reduction in the amount of energy you consume, resulting in lower energy bills.
Security – Both our aluminium and uPVC bi-folding doors come with state-of-the-art Yale locking systems. This guarantees superior protection for your Downton home, giving you the peace of mind you need to sleep comfortably at night. The double glazing in Downton we offer enhances the replacement doors further, giving you a truly robust structure that is also Secured by Design accredited.
Versatility -If you have a specific look in mind for your bi-fold doors, then we have a range of customisations you can make. Adjust the colour, finish, the number of leafs and size to suit your Downton home needs. Our expert team will help design a bi-folding door that perfectly complements the style of your home while matching the existing uPVC windows or doors you have.
Panoramic Views -The ultra slim sightlines and large double glazing panels allow you to benefit from panoramic views of your exterior surroundings. Whether you decide to have them open or fully closed, you will always be able to enjoy the views of the outdoors.
Durability – Our bi-fold doors are provided to us by Deceuninck, a market-leading manufacturer. They promise that their 50+ years of service will give you bi-folding doors that are long-lasting. You and your family can enjoy your replacement doors for many years to come.
Increased Light – All year long, your aluminium or uPVC bi-fold doors will flood your Downton space with natural light, giving you a room that is light and airy. Perfect for smaller rooms, the folding doors will also provide the illusion of a bigger space.
Our Approach
At Cara Glass, we have an expert team of double glazing specialists. They will work closely with you during the entire process to ensure you get a bi-folding door that is perfectly suited to you and your Downton home.
Our team have had years of experience in the home improvement industry, so you can rest assured that your bi-fold doors project is in the safest of hands.
From the designing process straight through to the installation, we will give you the advice and expertise you need to ensure you are receiving the best customer service. The installation will be completed promptly and efficiently, ensuring little disruption to your daily schedule.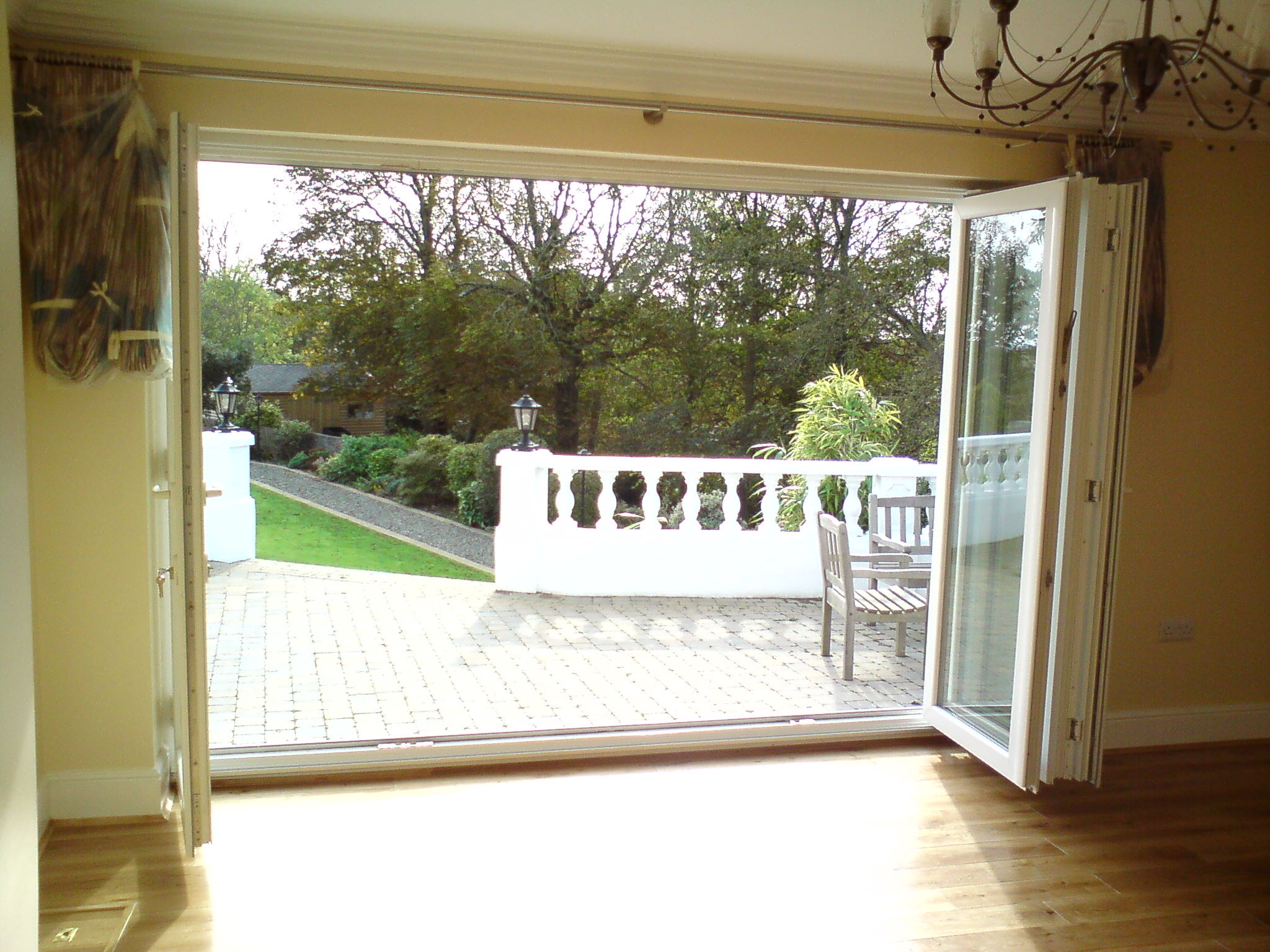 Bi-Fold Door Prices in Downton
If you're interested in enhancing your Downton home with aluminium bi-fold doors or uPVC bi-fold doors, then get in touch with Cara Glass today. Why not try out our online quoting engine and receive a free and instant quote. Send us a message via our online form or give us a call on 01722 744 825. Our friendly team will be on hand to assist you with your bi-folding doors project and answer any queries you may have.