A stunning way to blend the interiors of your Warminster home with your garden surroundings.
Here at Cara Glass, we provide homeowners in Warminster with stunning uPVC bifold doors or aluminium bifold doors. Our bifolding doors allow you to benefit from a range of exceptional performance benefits that will greatly enhance the functionality of your property. Not only can you enjoy their impressive features, but their slimline aesthetic will add modern appeal to your home.
We offer our uPVC bifold doors and aluminium bi-fold doors in a range of colours and finishes. This allows you to generate a custom design for your replacement doors; perfectly suiting your style and matching your existing Warminster architecture. The aluminium and uPVC bifold doors are a worthwhile investment that will be installed promptly and efficiently by our expert team of installers.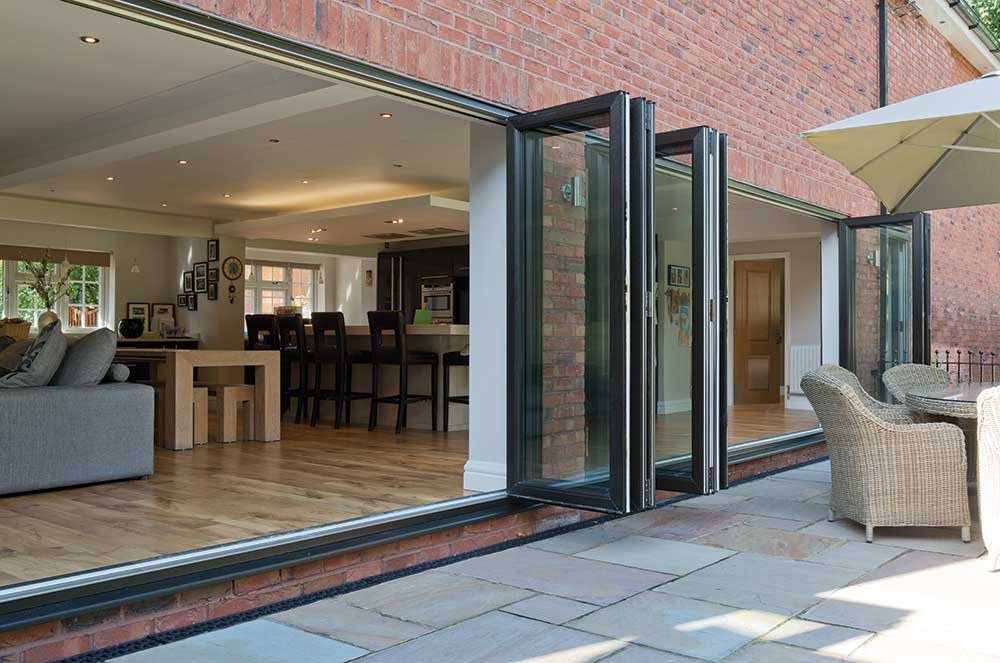 Aluminium Bi-fold Doors
Known for its inherent strength, aluminium is an incredibly robust material that will keep your Warminster home secure year after year. The durable frame will be resistant to warping, cracking, rotting and twisting that is typically associated with timber and uPVC profiles. You'll be pleased to know that all of our double glazing in Warminster has Secured by Design accreditation, keeping your home even safer and more secure.
The slimline design allows for large double glazed windows. This feature allows natural light to flood your Warminster home, giving you a brighter space all year long, whilst also giving the illusion of a bigger space. This is perfect for any homeowner looking a way to make a smaller room appear bigger.
If you have a specific look in mind for your aluminium bifold doors, then we have a range of colours and finishes available. You can also adjust the number of panels, size of the doors, and what hardware you would like. This allows you to design unique bi-folding doors that are perfectly suited to you.
uPVC Bi-fold Doors
As well as our aluminium bifold doors, we also offer all our Warminster customers with uPVC bifold doors. Manufactured by Deceuninck, our uPVC doors are produced using high quality materials and modern technologies to ensure they exceed standards of quality. This will give you the peace of mind you need to know you're investing in durable and long-lasting replacement bi fold doors.
During the summer, you have the option to open up an entire wall, allowing you to seamlessly blend the interiors of your Warminster home with your Wiltshire surroundings. Not only this, they provide excellent security as well as superior thermal performance.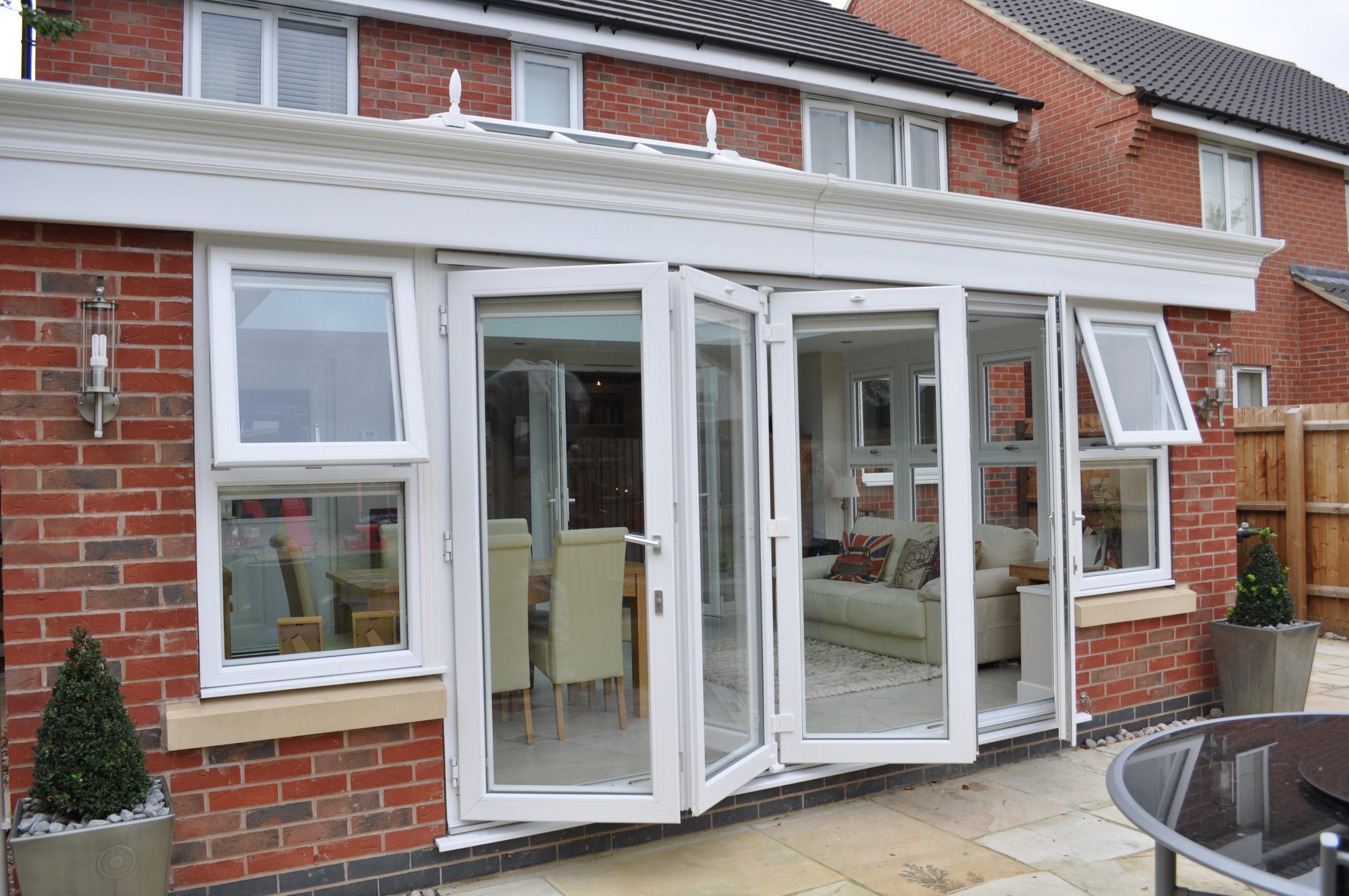 The Benefits of Bifold Doors
If you choose to invest in bifolding doors for your Warminster property, you can benefit from an excellent range of impressive performance features.
Energy Efficiency – Our bifolding doors in Warminster have been cleverly designed to provide your home with superior energy efficiency. The modern design traps warm pockets of air while keeping cold air and draughts out. You'll see a reduction in the amount of energy you consume. As a result, this will reduce the costs of your future energy bills and lower your carbon footprint.
Security – With our aluminium bi fold doors and uPVC bifolding doors, you can sit comfortably in your Warminster home without the worry of unwanted intruders breaking in. We combine the robust aluminium frame with Yale locking mechanisms to give you bi-folding doors that offer unrivalled levels of security.
Versatility – We have an expert team at Cara Glass that will work closely with you to turn your bifolding doors designs into a reality. With a spectrum of colours and finishes on offer, you can design replacement bifold doors that match the existing style of your Warminster property. Ideal for modern, new build, traditional and period properties, we will have a design that's perfect for you.
Panoramic Views – The modern design of the aluminium bi-folding doors means the frame of the replacement doors can be ultra slim. This allows for large glazed windows to let natural light flood any room. This unique design also allows you to enjoy panoramic views of your garden, without a bulky profile obstructing the view. You can choose to have the doors fully closed in the winter and open in the summer.
Durability – We work with leading manufacturer Deceuninck to provide you with high performance bifold doors for your Warminster home. This ensures that our aluminium bifolding doors and uPVC bi-folding doors offer superior standards of quality that will give you several years of service. The durable design will also prevent harsher weather climates from damaging your doors.
Low Maintenance – If you're looking for bifolding doors in Warminster that are easy to maintain and look after, then we have exactly what you're looking for. Our aluminium bi-fold doors use a powder coating that prevents discolouration and fading over a period of time. Our bi fold uPVC doors will simply require a wipe down with a damp cloth. This will have your replacement doors looking as good as new.
Our Approach
At Cara Glass, we pride ourselves on our expert service and high quality double glazing products. If you're looking for double glazing in Warminster, then we have the perfect products for you. Our expert team will work with you during the entire process to ensure you receive bi-fold doors that perfectly match your style.
Our team have had several years of experience working in the double glazing industry, so you can rest assured that your bi-folding doors project is in the safest of hands.
At Cara Glass, our customers are our priority. Our highly trained installers will work promptly and efficiently to make sure your replacement doors installation is installed correctly, without disrupting your daily schedule.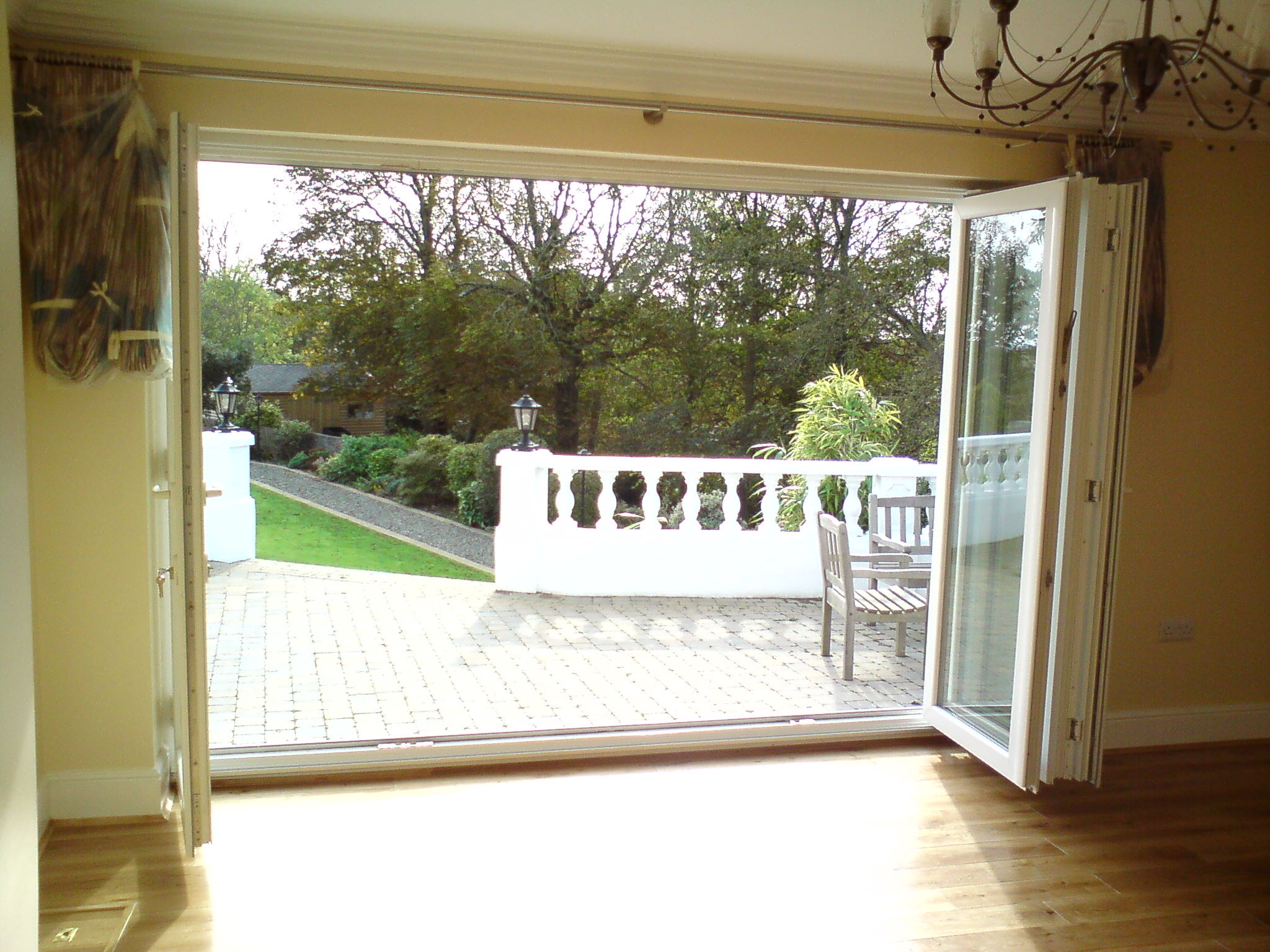 Bifold Door Prices in Warminster
Are you interested in transforming your Warminster home with aluminium bi fold doors or uPVC bifold doors? At Cara Glass, we offer a unique range of folding doors, perfect for new and old properties.
Our online quoting calculator will give you a free and personalised quote for your bespoke bi-folding doors. Simply enter in your details and receive an instant price.
You can get in touch with us via our online contact form or by calling us on 01722 744 825. We will be happy to answer any queries you may have.